With over 400 million active users, windows 10 is steadfastly finding favors among the masses. Microsoft has been continuously striving to appease its user base with continuous innovation and addition of features in updates for the operating system. Microsoft has recently released the third major update (the second of the four under Redstone) for its Windows 10 operating system named as Creators Update.
What's New in Windows 10 Creators Update
The Creative Update comes with a plethora of features and enhancements including better support for 3D, augmented, virtual and mixed reality, inbuilt broadcasting capabilities and better security and privacy customization options. The most talked about features of the update include:
3D and Mixed Reality
Today, the world is being swept across by a wave of 3D. This industry is witnessing a phenomenal growth and surge in its popularity and will continue to do so. Be it movies, gaming or e-commerce, industries across different spheres are riding this wave. The Creators Update for Windows 10 has improved features for a seamless and realistic 3D experience across various devices running the operating system. With multiple companies having launched their 3D viewing devices, Microsoft too has joined their ranks with their Windows Mixed Reality headgear. The update supports their upcoming Windows mixed reality headgear.
Paint too goes 3D
The paint application has been a legacy of Microsoft's operating systems. It is one of the first tools that most persons come across to express their creativity. A user base of over a hundred million is a profound expression of its popularity. With 3D becoming the norm, the legacy application receives a makeover. The update features a new Paint 3D application that takes an artist's creativity from a two-dimensional flat plane to an engaging three-dimensional world. Be it turning an image from 2D to 3D, creating a new 3D art or modifying an existing one, Paint 3D makes it all effortless. It also comes with an access to Remix3D.com, a website that allows access to a library of 3D objects and is a place for creators to engage, share, learn and inspire.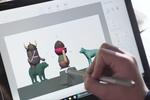 Broadcast with Beam
A gamer can now stream his gaming session with the Beam option of Creators Update. It eliminates the need of a third-party application or software and allows for real-time broadcast of the gameplay. The Beam icon has been added to the Game bar and enables instant streaming just at the click of a button. In addition to streaming, it allows players to interact, chat and share across different devices and platforms such as Xbox without the need of any additional hardware and software.
Windows 10 Creators Update even incorporates the Xbox Play Anywhere feature that allows for a game purchased to be played across multiple platforms. The update also features a special gaming mode to ensure that optimum resources are available for utilization by the games for a consistent performance and an enriching experience.
Microsoft Edge
Creators Update ensures that Microsoft Edge becomes the best browser for Windows 10 operating system by stamping its authority across different domains – be it speed, security or battery consumption. Living up to its name, the browser has an edge over its counterparts from house of Mozilla and Google by providing better security and threat detection, performing faster and ensuring more efficient usage of the battery.
The browser sees introduction of plenty of new features such as the tab preview bar that allows to keep track of different webpages by facilitating the user to preview them from the webpage they are currently on, the set tabs aside that helps to hide the tabs not required right now but are to be referred later and also the option of launching a new tab or window right from the browser's icon in the taskbar. The update also includes multiple extensions for the browser such as Intel TruKey, RoboForm and Ebates and supports 4K Ultra HD resolution playback.
Comprehensive Security
The Windows 10 Creators Update features a comprehensive security package.
Windows Defender Security Centre
The windows defender provides the status of the device's current security level and allows customization of security settings at single place. A user can monitor the virus protection level, network and firewall status, application security and family filter options.
Windows Hello
Windows Hello is a robust and useful security feature that enables the device to automatically lock itself when the user steps away from the device. The feature requires a smartphone or any other supported device to be used.
The Minuscule Details
The only difference between the good and the great is attention paid to the little things. Windows 10 Creators Update has several miniscule details to make user experience better and life a little friendly. The much appreciated bluelight filter has been borrowed from the smartphones and incorporated as Night Light. The mode lowers the amount of blue light emitted by the screen and helps a person's brain to unwind at night and fall asleep faster.
Mini view allows overlaying of a window of another application on a currently active one. It gives the freedom of skyping or watching videos concurrently while working. Screen time limits are now available across all devices running Windows 10 Creators Update. These make the life of parents a lot easier by helping them to control the amount of time their children spend on a PC or an Xbox by automatically signing them out when their allotted time limit is up.
Besides the above, the Windows 10 Creators Update has a new version of Skype which is being termed as the best one ever for a Windows operating system, a lot more avenues assisted by Cortana and various improvement across different applications available at the windows store.
Installing the Windows 10 Creators Update
The Creators Update is being made available by Microsoft to devices in a phased manner. The update center of a device running a previous version of the Windows 10 will notify its user whenever the update will be available for installation on that device.
The update can also be installed manually by using the upgrade assistant available on the company's website. However, there have been multiple compatibility issues reported with older hardware. Microsoft is currently blocking users with hardware known to have issues with the Creators Update from receiving an update notification.
The company is working with the hardware manufacturers to get drivers updated. Microsoft has suggested that users wait to be notified regarding the update by the automatic update center of Windows instead of installing manually to avoid any issues.